Tuesday, 02 June 2015
Places To Eat In Los Angeles: TART, West Hollywood [NOW CLOSED]
One of the best things about staying in the Farmers Daughter Hotel in West Hollywood was the food from the hotel restaurant, TART. American Southern meets classic SoCal, I filled up on so many treats during my stay from room service, to tasting plates and a breakfast which literally filled me up for the whole day (perfect to kick off the day if you're planning on going off to explore the city) and it is already firmly on my list of favourite eats in the city. I also had the chance to sit down with TART's executive chef Keith Shutta for a tasting and a chat about the menu, but shall we kick off with my usual restaurant review first?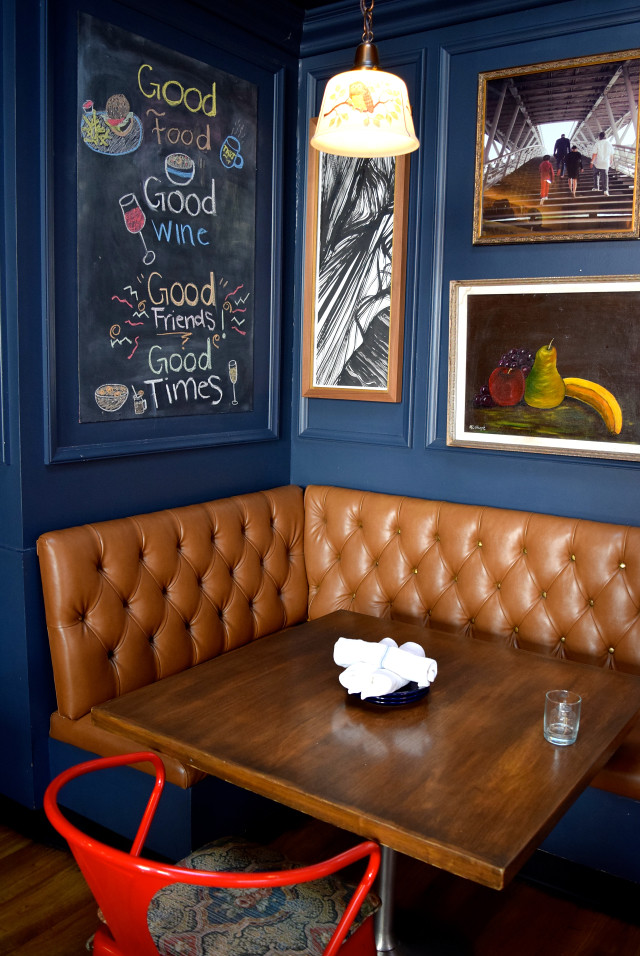 The inside seating and bar at TART have a great moody, leather feel to them; I think it would make a great date night spot (and along with the food, if a guy took me on a date here I'd be super impressed). Outdoors, there is more of a relaxed California vibe; TART and the hotel share the same outdoor space, with seated tables for a proper meal, and coffee table style dinning to relax back with friends at happy hour, have a bite to eat, and to enjoy one of TART's punch bowls (which a couple were kind enough to share with me one afternoon as I was sitting by myself with my book), which is a way of serving cocktails that somewhere open air in East London needs.
While the constant (free) refills of my mason jar of iced tea (TART has fantastic service) reminded me that I was in fact back in America, my breakfast burrito arrived at my breakfast table. Now, the first time I ever had a breakfast burrito, I was at the ski lodge at Sierra, Lake Tahoe (Northern California for all my British readers. Yes, there is snow in California!) It was a slightly soggy affair, albeit still delicious, exactly what you'd expect from a tortilla stuffed with scrambled egg, salsa and potatoes – I get them to hold the cheese. The burrito at TART, aside from being massive and deliciously filling, exists on a whole other level.
The burrito itself is stuffed with scrambled eggs, potatoes, chorizo, and usually cheese. You know how most of the chorizo we get in the UK is already cooked and comes as a salami, and really the only interesting thing you can do to cook with it is to fry it up to release the oils and to make it crispy? This was chorizo sausage, which has a much more delicate flavour while still packing a punch, which you cook from raw and does not have that side affect of turning everything orange; it rounded off the flavours beautifully. However, aside from the actual burrito, the excitement came from what it was served with. I could not get enough of the punchy salsa verde the slices were resting on, and that white drizzle you see on top is fresh lime crema. Both creamy and refreshing, it really added another flavour element to the burrito. TART have taken a classic, and updated it in a way to make it a bit more polished and refined, without fundamentally changing what the burrito really is; great, south of the border style brunch food.
Sitting out on the terrace, after our cocktails had arrived (I had a fantastic cucumber and gin elderflower number, and also here we have a Pimm's Cup), Keith Shutta, executive chef of TART and I sat down to talk about the menu. TART serves up fresh, bright Californian cuisine with both Southern and British influences. With so many different main influences on a menu that is clearly Southern Californian, we also had a bit of a chat about what really made cuisine 'Southern Californian' or 'Los Angeles food'.

The menu at TART is divided into 'Snacks', 'Salads', 'Shared', 'Plates' and 'Sides'. I always think the smaller, sharing dishes at any restaurant are the most interesting, so it was great to talk about the influences behind some of the dishes that a lot of people might dismiss as just 'bar food'. Above we have the Crispy Chicken Legs, served with a spicy Tennessee whiskey sauce and a few griddled pieces or torn sourdough.
This dish is a great example of both the balance and the fusion that exists in Southern Californian cuisine. Keith explained to me the process behind these deliciously moist and tender legs, which are a marriage of a traditional French confit, and classic Southern 'hot chicken' which he urged me to Google once I got back to my hotel room; the confit is lightly fried before serving to create an impossibly crisp skin. Apparently, this technique creates both a lighter version of the Southern hot chicken (both Keith and I agreed that SoCal cuisine was all about balance, lightening up old favourites but enjoying the odd indulgence at the same time), while always ensuring that the chicken is cooked through without drying it out in the middle which is a danger when frying. To finish the whole thing off, the spicy Tennessee whiskey sauce is something I want to try and recreate at home: a blend of Jack Daniels, molasses, Fresno chillies, red jalapeño powder, distilled white vinegar, black sugar and (Heinz) tomato ketchup. When I asked Keith what his favourite dish to cook on the TART menu was he cited this dish, and from the apparent amount of thought that has gone into the melding of flavours and techniques, I can see why.

When Keith took over the TART kitchen in October 2014 these Fried Pigs Ears were already on the menu, but not under that name. However, he decided it was best to not be squeamish about it and tell people exactly what they were eating; they're now one of TART's most popular menu items. So much of what they produce in the kitchen is driven by fresh, local ingredients and their fantastic and personal relationships with their suppliers, so it is only natural that they wanted to be all about just showcasing the very best of the ingredients in their dishes as they come, not hiding anything.
I personally was not sure about the slightly toothsome quality of the ears at first bite, but I quickly became addicted to the flavoursome morsels dipped in a creamy, all-American ranch dressing. The team braise the whole ears for three hours in wine, seasoned with cinnamon and bay leaves, before allowing them to cool, cutting them, dipping them in cornstarch and frying them. What I love about both this dish and the chicken is that they're both actually pretty simple dishes, but with a lot of care and time put into the execution.

One of my favourite dishes we sampled was one of the specials. They don't put together one off dishes like this in the restaurant that often (you have to be careful watching the bottom line in such a small kitchen), but they promoted this dish on social media after Peter, the hotel and restaurants owner brought some beautifully ripe papayas from his back garden. The hunks of papaya were tossed with grilled shrimp, cucumber ribbons, coriander, lettuce, pickled onions, wafer thin slices of radish, and a beautiful slightly sweet, slightly savoury dressing made from sambal chilli, lime, sugar and mustard oil. I think this dish excited everyone sitting around our table not just because it was delicious and very aesthetic (when I asked him which were his favourite types of dishes to plate, Keith told me he loved working with the healthier dishes, as they're usually full of such interesting shapes and vibrant colours), but because it perfectly captured the spirit of 'Southern Californian' or 'Los Angeles' food. It is both fun and full of flavour, as well as being seasonal; I did ask Keith if with the mild California climate the seasons for fresh produce were as defined as we see them, say in London, but yes, the time of year does affect what is available.

Another special, my favourite dish we sampled was actually quite simple; something else that I love about Californian food, and that Keith and his team managed to capture perfectly at TART. This freekeh and seafood salad is a simple mix of grain, cold calamari, poached shrimp and crab, red watercress (it has a much milder flavour profile than the regular variety, and an ingredient that Keith is rather excited about) all tossed in a muddled citrus vinaigrette, which is something I wish I'd asked for the exact recipe for. You can imagine how good a blend of orange, lemon, lime, grapefruit and yuzu would be, right?

The last dish we sampled was something a little more Deep South than West Hollywood, but still kept with TART's ethos that Keith described to me of 'lightening' up classic Southern dishes to make them a bit more California friendly. A classic chicken fried steak (for those of you unfamiliar with Southern food, this is what chicken fried steak is!) is made with a much lighter crusting, before being topped with a perfectly poached pair of eggs, country gravy (which I surprised myself by really liking. Again, this is what country gravy is!) and with the most intriguing side salad. Just simple rocket, but tossed with a coffee and bacon vinaigrette. I was unsure about the dressing at first as I'm not a massive coffee fan, but the flavours were perfect; mild so you could just taste them, but very definitely there. It was just one of those finishing touches to the dish that lifted the whole thing to another level.
I sat down with Keith to not just talk about his menu and to sample the food at the restaurant (always important, though!), but to really get an understanding of what he thought 'Southern Californian' or 'Los Angeles' meant when applied to food. I had already decided what this meant in my head; it meant fresh, bright, seasonal Californian ingredients, with international influences and techniques from the melting pot of cultures that both the city and its kitchens are made up of. Essentially, a much sunnier version of the food we get in London. I'm happy to report that Keith agreed with my assessment; food in Los Angeles, regardless of what cuisine is being created (be it Southern to Korean to Mexican) is very focused on local ingredients available thanks to California's fantastic climate. That is the first thing. Second, it is all about balance; offering items on the menu such as TART's Winter Kale Salad and Pan Roasted Salmon (served alongside butternut squash, pecans and cranberries) alongside indulgences such as TART's massive sharing punchbowls, and the Chocolate Banana Bread Pudding served with marshmallow ice cream that I just have to go back to try.
I was at TART as a guest of TART and the Farmers Daughter Hotel.