Monday, 28 April 2014
In The Kitchen With Tonia Buxton & Total Greek Yogurt + Greek Lamb Pattie & Vegetable Tray Bake Recipe
Just before Easter I spent a sunny Thursday morning in Marylebone with Greek chef Tonia Buxton and the lovely team from Total Yogurt cooking up a Greek Easter inspired feast with some fellow foodies. All the food we made and ate was fantastic (served alongside some wonderful Greek wines), but my one takeaway from the morning was the fantastic Greek Lamb Pattie & Vegetable Tray Bake we made, which I replicated with a few of my own little tweaks for my family on Easter Sunday so we were not eating just chocolate eggs all day!
Just a few notes on the photography in this post; while I usually do all of my own shots, all the pictures in this post (except for the first and the last images) are by Satureyes Photography who was shooting the event for Total. I was feeling a little bit under the weather in the kitchen, so it was enough for me to focus on the cooking and on keeping Instagram updated! Anyway, you have some not too bad shots of me for once.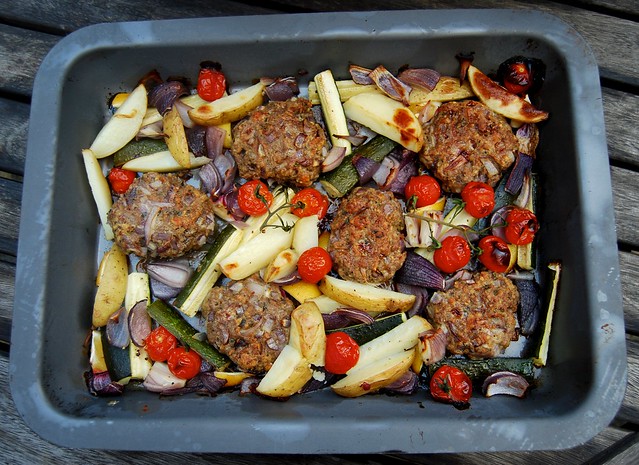 The three of us because we are greedy we polished off all of this off, but this dish actually serves four. I've used the vegetables we did at the Total event because I like them all, but you can chop and change depending on your personal preferences. I feel that red, yellow or orange peppers, or aubergine cut into chunks would also go well with this dish.
400g (14 oz) Lamb Mince
100g (14 oz) Breadcrumbs
1 Large Egg, beaten
1 tsp Ground Cumin
1 Large Bunch Fresh Mint, chopped
3 Red Onions
3 Large Waxy Potatoes
2 Large Courgettes
2 Large Handfuls Cherry Tomatoes
1 Unwaxed Lemon
Extra Virgin Olive Oil
Sea Salt
Freshly Ground Black Pepper
Total 0% Greek Yogurt, to serve
Pre-heat the oven to 200 degrees celsius (390 degrees fahrenheit). In a large bowl mix together the lamb mince, beaten egg, cumin, chopped mint, breadcrumbs and one of the red onions, finely chopped. Season well with salt and pepper, and shape into eight patties. Oil a large baking tray and arrange the patties.
In another large bowl add the cherry tomatoes (I like to try and keep them on the vine), the lemon cut around the middle then cut into wedges, the remaining red onions cut into wedges, and the potatoes and courgettes cut into thick strips. Season with salt and pepper, drizzle generously with olive oil and toss together so that all of the vegetables are well coated. Arrange them around the patties and bake in the oven for 40-50 minutes. If the vegetables are not browning or the potatoes are still a bit solid in the middle when you test them with a knife, just heat up the grill and pop them under for the last 10 minutes or so of cooking. I cooked mine on the bottom of the AGA, and I did need to move it up to the top of the grill! Serve with a good dollop of Total 0% Greek Yogurt (or my Light Tzatziki) and enjoy!
What did you make this Easter? Personally I don't actually like lamb, but I love these patties. Over Easter, however, because it was my Daddy's birthday on Good Friday I cooked a dinner of his favourites; Prawn Cocktail, Vanilla Panna Cotta and Slow Roasted Shoulder of Lamb with Boulangère Potatoes (I used Tom Kerridge's recipe!)